---
Gallery now open weekends!
Our gallery is now open on weekends and gladly by appointment during the week.

Gallery Hours
Saturday: 11am - 5pm (EST)
Sunday: 1pm - 5pm (EST)
Weekdays: By appointment only!
---
AROUND BACK AT ROCKY'S PLACE
Around Back at Rocky's Place is one of North Georgia's largest folk art galleries featuring one of a kind artwork from hundreds of Southern artists. Our gallery boasts thousands of unique pieces of work, including the largest collection of artwork by Cornbread in the universe!
---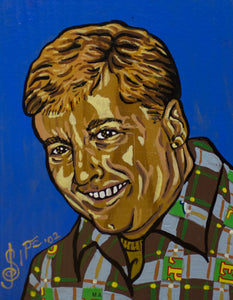 Featured Artist: Cornbread
Cornbread, John Anderson, is a native of Georgia and was born and raised in the North Georgia region. His most popular paintings feature guineas, strawberries, foxes, turkeys, coons, birds and the like painted on the surfaces of metal, wood, cardboard, and canvas.
In the folk art world, "Cornbread" is a household name and folk art giant.
Around Back at Rocky's Place is proud to boast the largest selection of Cornbread work in the entire universe!
MORE SELECTIONS BY CORNBREAD SHOWING AT THE GALLERY
Shop Cornbread Folk Art
---
We're in the news!
The Atlanta Journal Constitution recently named Around Back at Rocky's Place as one of the top Folk Art destinations in Georgia!